Chat Server List
As users' handles are added to the system, messages are indexed here.
Work in progress: Please report bugs to Unicorn Riot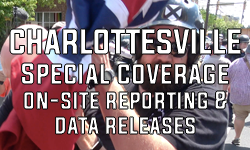 See More Discord stories from Unicorn Riot here
Unicorn Riot does not endorse the disturbing material in these chats. This publication is part of an effort to document violent far-right political movements.
Credits: A team of anonymous developers implemented this chat log and content viewer with help from Unicorn Riot collective members.

Search the Discord chat database